August 03, 2018
MaxMonitor Ratings
MaxMonitor, the media monitoring, analysis and measurement platform developed by Mediamax media company presents the volume of online media coverage of Armenian ministers and officials in July 2018.

The July review of 130 media websites shows that the trio of the most mentioned ministers is as follows:

1. Minister of Defense Davit Tonoyan: 1964 mentions;

2. Minister of Education and Science Arayik Harutyunyan: 1724 mentions;

3. Deputy Prime Minister Ararat Mirzoyan: 1507 mentions.

The trio of the least mentioned ministers is as follows:

1. Minister of Agriculture Arthur Khachatryan: 184 mentions;

2. Minister of Finance Atom Janjughazyan: 167 mentions;

3. Minister of Sport and Youth Affairs Levon Vahradyan: 84 mentions.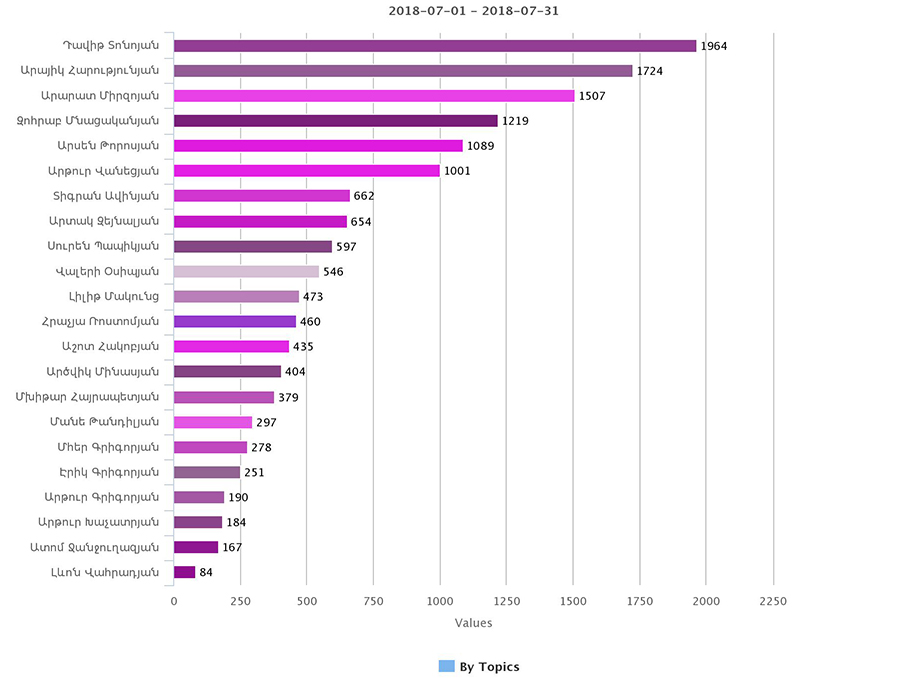 The presented data relates exclusively to the number of mentions.

MaxMonitor specialists separately analyze publications of 13 news media websites (168.am, 1in.am, A1plus.am, Aravot.am, Armenpress.am, Armlur.am, Blognews.am, Hraparak.am, Lragir.am, Mediamax.am, News.am, Panorama.am, Tert.am), which makes it possible to map the mentions with positive, neutral, and negative undertones. The results for July 2018 are displayed in the chart below.
| | | | |
| --- | --- | --- | --- |
| Minister | Positive | Neutral | Negative |
| Davit Tonoyan | 315 | 174 | 11 |
| Ararat Mirzoyan | 98 | 271 | 6 |
| Arayik Harutyunyan | 193 | 126 | 9 |
| Zohrab Mnatsakanyan | 227 | 73 | 3 |
| Arsen Torosyan | 102 | 78 | 41 |
| Artur Vanetsyan | 96 | 92 | 0 |
| Artak Zeynalyan | 109 | 69 | 4 |
| Tigran Avinyan | 93 | 80 | 3 |
| Suren Papikyan | 119 | 35 | 3 |
| Valeriy Osipyan | 59 | 67 | 19 |
| Ashot Hakobyan | 93 | 38 | 0 |
| Lilit Makunts | 83 | 41 | 3 |
| Artsvik Minasyan | 90 | 24 | 1 |
| Hrachya Rostomyan | 59 | 35 | 20 |
| Mkhitar Hayrapetyan | 85 | 8 | 7 |
| Mher Grigoryan | 42 | 45 | 0 |
| Mane Tandilyan | 49 | 29 | 0 |
| Erik Grigoryan | 52 | 13 | 1 |
| Arthur Grigoryan | 37 | 14 | 0 |
| Atom Janjughazyan | 22 | 19 | 0 |
| Arthur Khachatryan | 35 | 5 | 0 |
| Levon Vahradyan | 13 | 3 | 0 |