September 04, 2018
MaxMonitor Ratings
Media monitoring, analysis and measurement platform MaxMonitorhas mapped the online media coverage of the following Armenian political figures in August: Nikol Pashinyan, Serzh Sargsyan, Armen Sarkissian, Karen Karapetyan, Taron Margaryan, Robert Kocharyan, Vigen Sargsyan, Levon Ter-Petrosyan, Ararat Mirzoyan and Gagik Tsarukyan.
The review of 130 media websites in August 2018 shows that the trio of the most mentioned politicians is as follows:
1. Nikol Pashinyan: 13 979 mentions (July 2018: 15 681 mentions);
2. Robert Kocharyan: 9 030 mentions (July 2018: 4 572 mentions);
3. Serzh Sargsyan: 2 734 mentions (July 2018: 3 996 mentions).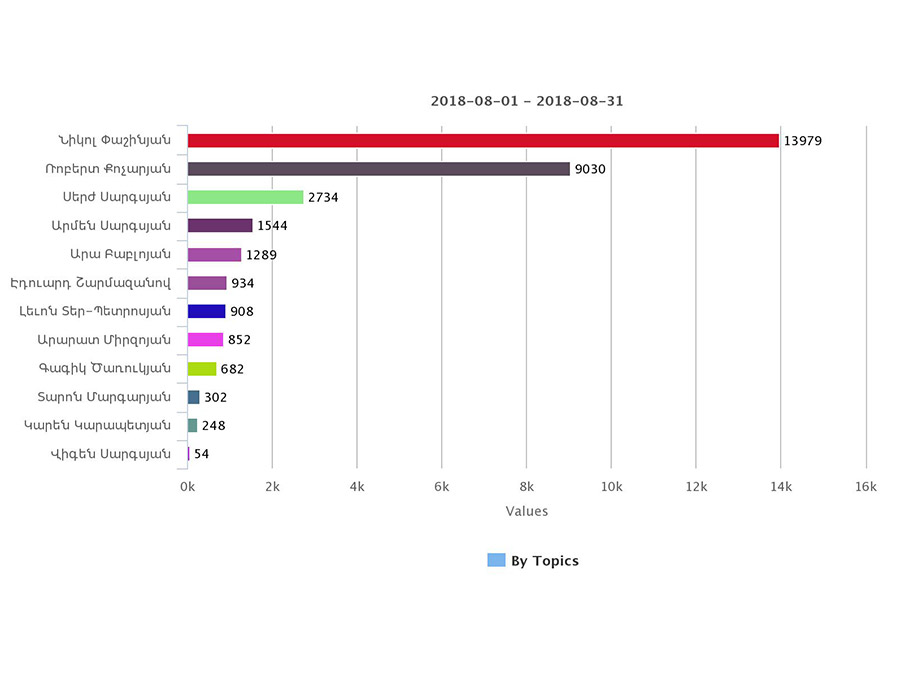 MaxMonitor specialists separately analyzed publications of 13 news media websites (168.am, 1in.am, A1plus.am, Aravot.am, Armenpress.am, Armlur.am, Blognews.am, Hraparak.am, Lragir.am, Mediamax.am, News.am, Panorama.am, Tert.am) and revealed certain qualitative indicators.
In August 2018, MaxMonitor specialists analyzed total 8 369 articles which in some way covered the activity of the mentioned politicians.
You can view the share of positive, neutral and negative mentions for each of the listed politicians in the table below.
| | | | |
| --- | --- | --- | --- |
| Politician | Positive | Neutral | Negative |
| Nikol Pashinyan | 1152 | 2526 | 14 |
| Robert Kocharyan | 29 | 1942 | 187 |
| Serzh Sargsyan | 9 | 746 | 69 |
| Armen Sarkissian | 112 | 266 | 0 |
| Ara Babloyan | 111 | 220 | 0 |
| Eduard Sharmazanov | 43 | 187 | 2 |
| Levon Ter-Petrosyan | 1 | 206 | 20 |
| Ararat Mirzoyan | 38 | 176 | 1 |
| Gagik Tsarukyan | 31 | 126 | 1 |
| Taron Margaryan | 0 | 79 | 0 |
| Karen Karapetyan | 0 | 63 | 0 |
| Vigen Sargsyan | 0 | 12 | 0 |